Dit evenement is voorbij.
Texel Fly-in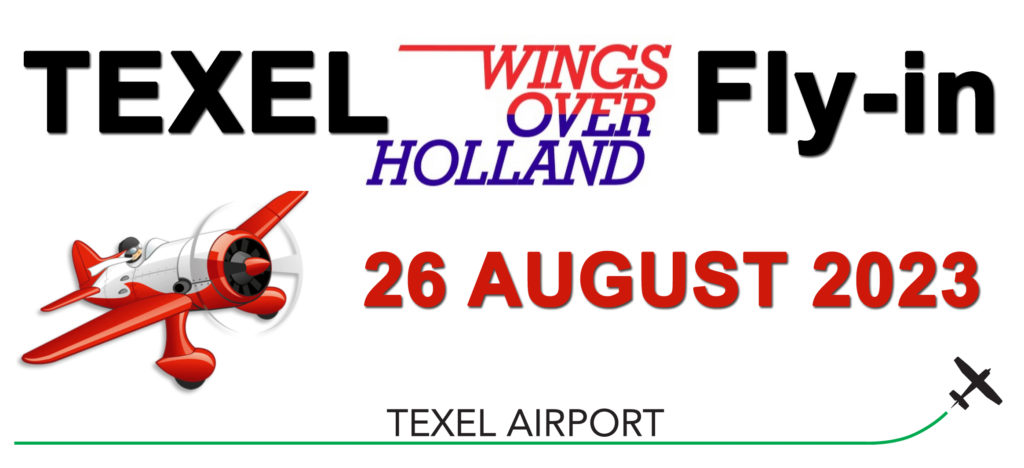 Latest news 25-8-2023: Fly-in & Airfair cancelled!
Dear friends,
After consultation the MET Office and the main sponsor of the Texel "Wings over Holland" Fly-in, we made the sad decision to cancel the fly-in.  The general weather outlook is pretty bad especially the chance of showers and thunderstorms in this weekend. We want to keep it safe!
This means that te Airfair is cancelled as well. Texel Airport is of course open this weekend depending on the weather conditions.
Beste vliegvrienden,
Na overleg met de meteo en de hoofdsponsor hebben we de droevige beslissing moeten nemen om de Texel "Wings over Holland" Fly-in niet door te laten gaan. De kans op zware buien met mogelijk onweer is erg groot dit weekend en de veiligheid staat bij ons hoog in het vaandel. De Airfair gaat ook niet door.
Texel Airport is natuurlijk gewoon open dit weekend, maar er is geen druk om deel te nemen.
Happy landings,
Team Texel Airport
The biggest fly-in of the Netherlands! For more information and to register visit www.texelflyin.nl or use this direct link.
Participants
D-ENOT – RALL
PH-STZ – C172
PH-3U1 – CH70
D-GEMB – P68
N626JG – PA34
PH-VHP/K – P28A
D-EEEU – RALL
PH-GYS – C172
PH-BEC – P28U
PH-MNX – RV7
D-EDOM – HR20
OO-VBA – B06
PH-4Q6 – ULAC
PH-VFE – P28A
PH-0B9 – ECHO
PH-GTT – P28A
PH-3Y5 – CH60
G-AYAT – P28A
OO-GTX – DR40
PH-4S2 – TL30
D-EISK – C172
N1947S – S108
PH-DRT – P28A
PH-VHC – SIRA
PH-TWK – C172
PH-4J7 – WT9
PH-ACT – C172
PH-4V1 – TL30
G-CGTT – EV97
LN-ELG – SR22
PH-ACT – C172 (second time)
D-EKTW – P28A
PH-0A7 – JK05
PH-4J3 – FDCT
PH-SCP – RV9
D-EZTM – DR40
N227MM – SR22T
OO-CIR – C172
N298SQ – PA18
PH-STZ – C172
F-JWRL (73-OE) – PIVI
N172PL – C172
PH-VFC – P28A
PH-ZCR – PA18
PH-VGC – C172
PH-VHY – C172
D-EGMJ – C182
PH-EYE – SR20
N5360H – PA16
PH-DHC – DHC2 Beaver
PH-3R6 – PNR3
G-YROR – M24 Gyrocopter
PH-KHV – Beech D18S
PH-1391 – DIMO
N202AS – P28A
D-MRMH – WT9
PH-VTA – CRUZ
PH-AWX – SONEX
PH-ACX – DV20
PH-PLP – RV7
OE-CRU – CRUZ
D-MDGW – FDCT
PH-ASN – DA50
PH-AMD – EUPA
PH-GLZ – EUPA
PH-FLG – PA18
PH-2R4 – Mistral
N8233 – DH82
PH-4U9 – TL30
PH-4V2 – TL30
PH-AFV – BR23
PH-3B7 – ECHO
PH-GTT – P28A
PH-TGV – C172
PH-SHC – GLSP
PH-MTN – MCR4
HB-YLL – RV6
PH-WKB – P28A
PH-PAD – P28A
D-ESHP – F8L
D-ERIG – EUPA
D-EHCB – PA18
N98BT – SR22
PH-NEW – CRUZ
PH-HLC – DA40
PH-VER – CRUZ
PH-KLQ – A210
PH-JBG – C172
D-ENMS – DV20
G-KUPP – FDCT
OMS504 – VL3
PH-KMR – GA8
D-MMCR – ULAC